Writing a personal statement for your Medicine application can feel like a huge mountain of a task and a lot of students tend not to know where to start. There are actually lots of different ways to write a personal statement and different people will find that different approaches work best for them. Here are 5 methods you might want to consider using to help you get your first draft ready!
1. The brain dump approach
For this approach you simply write down everything you've done, reflect on each experience as deeply as you can. You don't think too much about structure, but simply get out everything you have to offer: every single piece of work experience, voluntary work or career exploration activity you've done. If you've written detailed reflections on every experience you've had so far this will be quite an easy approach to go for as it'll just involve bringing together all the reflections and pasting them in one document.
With this approach, once you've finished brain dumping and writing out all your reflections you will end up with quite a long personal statement, one that'll be perhaps double or triple the UCAS limit. You'll then go through and shorten it right down by combining experiences and removing the less relevant ones.
Positive: Makes sure you haven't missed anything, you'll have considered every experience you've had
Negative: cutting down and re-structuring afterwards can be a huge task. It can be hard to remove experiences that you've already written up and know how to order everything best
2. The selective approach
This is similar to the brain dump approach, but involves selecting your best experiences prior to attempting to reflect on them. You'll go through a list of everything you've done and consider which ones you perhaps spent the most time doing, which ones taught you the most about a career in Medicine and also about yourself.
Positive: The write-up will be easier as you'll have specific experiences you'll be focussing on so will allow you to showcase the best of what you've done
Negative: being selective at the beginning might mean certain key elements or qualities required have been missed out. Limiting yourself to reflecting on only certain experiences could make it appear as though you lack variety in your experiences.
3. The brainstorming approach
For this approach you won't attempt to sit down and write anything up straight away at all. Instead you'll fill your brain with lots of inspiration and over a few days note down good phrases and reflections that come to mind. A detailed post with ideas on how you can brainstorm is coming soon, but methods you can use include reading personal statement examples, reading your own reflections. You won't copy anything from anywhere but instead note down any original phrases and ideas that come to mind.
Reading lots of different things and having them just at the back of your mind sounds too passive, but if you actually do this ideas and thoughts will come to your mind. You may even want to structure your brainstorming by categorising it according to qualities required of a medical student or doctor or just create a list of phrases or sentences that pop up in your mind (as I did).
Positive: A personal statement does have to sound impressive and include strong phrases that convey your passion well – this method will help you come up with a lot of good phrases without having to put yourself under a lot of pressure.
Negative: Using this approach will mean you'll often end up with a lot of good phrases, but then you'll have the task of bringing them together and formulating them into paragraphs which can be a challenge. It can also be difficult to add the important reflections and substance to your writing if you just rely on brainstorming.
4. The questions approach
Ask yourself what you want your personal statement to show and try and answer these questions. For a Medicine personal statement one the key questions would be "why do I want to study Medicine?", but there are many other key questions that you should be answering throughout. These are listed in more detail in my Personal Statement Planner. You may also find some general ones listed here useful.
Positive: It can ensure that your personal statement is focussed and is achieving its purpose
Negative: Using a question and answer approach can make it difficult to write about all your experiences in a cohesive manner so your personal statement may not flow as well
5. The structured guided writing approach
In reality you'll probably use a combination of the above approaches as I did when I was writing my own personal statement. When I wrote my personal statement I was aware that there were different ways of approaching it, but one thing I wanted what to find a step-by-step writing guide to help me through the whole process. Unfortunately, nothing like that existed so I created my own 13 step personal statement planner which helps you go from a blank page to a complete personal statement ensuring you've reflected on your best experiences, structured it well using some key buzzwords.
The personal statement planner has been successfully used by numerous applicants and received lots of positive feedback over the past couple of years. If you feel like having a guided structure to help you plan and write your own personal statement then do check the planner out. It's been specifically designed to help medical school applicants extract the best of their experiences and reflect on them effectively – personal statements I've read written using it are structured much more strongly and include much more thorough reflections.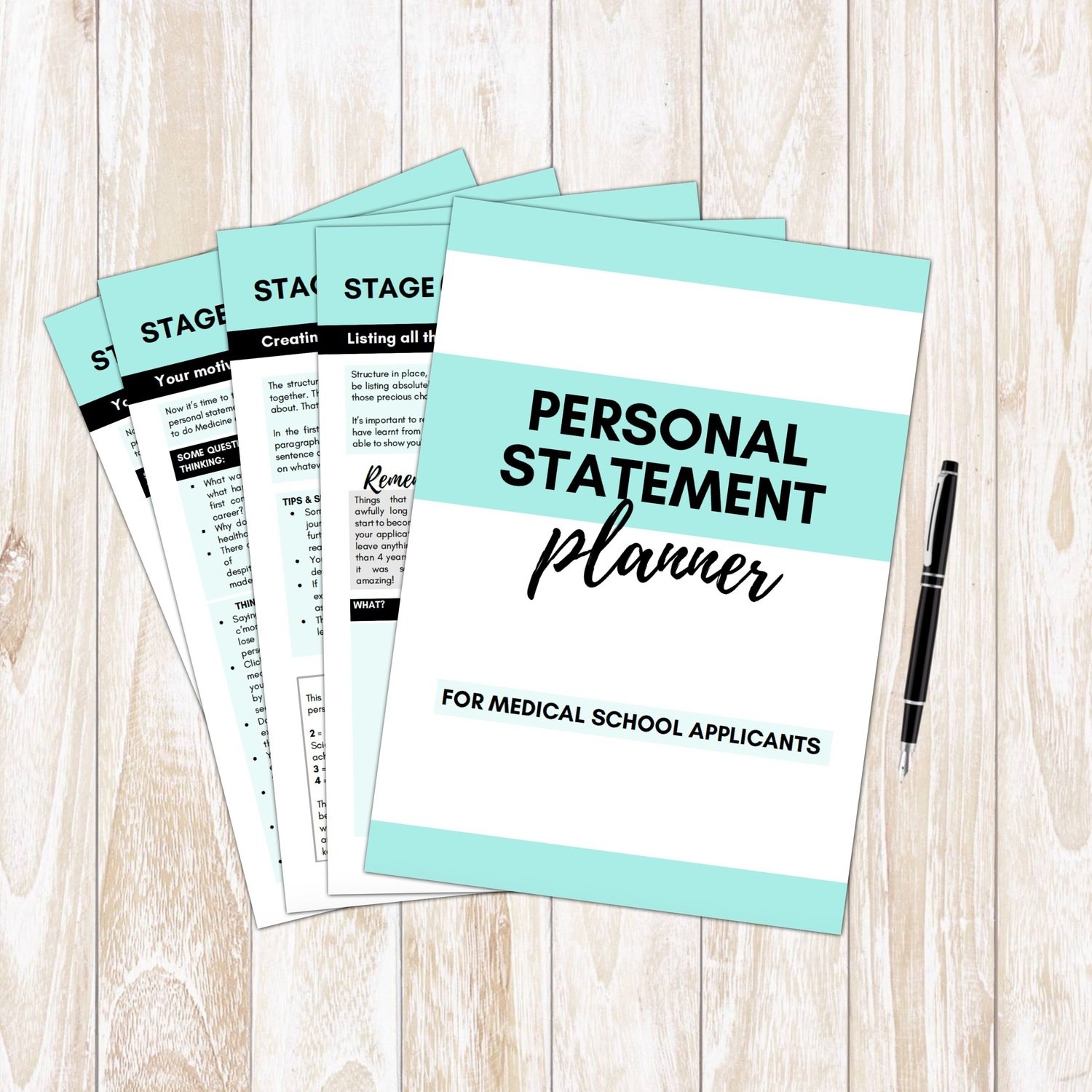 ---
Let's connect! See more of my day-to-day:
Check out my discount codes for some of my favourite brands!

#AskAMedStudent series: have a read of the questions I've already answered and submit your own!
---