Productivity is all year round, even when exams are over and you've got nothing to do but relax, you still want to accomplish a lot each day! You want to go to bed each day feeling as though you've achieved something of some sort. In today's world, we are surrounded by distractions which make focussing on anything really difficult. Even just sitting down to read a book – how easy is it to get distracted on your phone and end up endlessly scrolling through social media? Very easy.
Today I'm going to be sharing some of my favourite free productivity tools/apps that will completely transform your life whether you're studying, working or wanting to simply relax.
1. Flipd
This one definitely had to be at the top of my list!
Flipd is an app which helps you to stay off your phone and remain focussed on whatever task you may be doing. It operates on two different modes: a "casual lock" which challenges you to stay off your phone for a time period that you enter and a "full lock" which hides your apps for those of you who completely lack self-discipline.
I've been using it a lot recently and I've got it on now as I write this blog post. Another really cool feature it has is allowing you to compete with each other in groups, make sure you join my group and we can all compete together and you don't miss the next time we go live! Open this link on your phone and it'll take you there directly: https://flipd.app.link/oAvmNHaCQO
(Psst…I'm going to be hosting a lot of giveaways for those of you who have joined my group, so make sure you're automatically entered by joining!)
2. Momentum Dash
Momentum is a Chrome extension that replaces the Chrome homepage with a dashboard. The dashboard contains weather, an inspirational quote, a beautiful background image and most importantly: a daily to-do list. Every time you open up Chrome you're reminded of the to-do list for the day and your main focus, which encourages you to actually work on them and get them ticked off!
Momentum also has loads of other really innovative features: you can set a countdown to important dates, schedule the times that you want to be productive, customise it with your own photos, display the day as a % of hours passed…
3. Noisili
Sometimes you need complete silence and other times you need some background noise. Noisili is a really cool programme that allows you to play different sounds of nature depending on whether you're wanting to increase your productivity or relax. You can mix up the sounds to create your own combination of waves, rain, wind, flowing water, fire crackling. It's a lot better than listening to music (because let's be honest, you're not really concentrating when you're singing along) and the sounds are just so soothing and peaceful.
You can even save some of your favourite combos and share them. Here's mine if you're interested in hearing it!
4. Fliqlo
Okay, so technically speaking Fliqlo isn't branded as a productivity app – it's a flip clock screensaver – but I felt as though it deserved a mention on here because it does indeed help me when I'm trying to be productive. When I'm working on something, not on my laptop – I like to open my laptop screen and turn the screensaver on so you have a giant clock in front of you. It kind of makes you more aware of the time passing so you feel more accountable for it. If you decide to get distracted on your phone, through the corner of your eye you'll be able to see the clock flipping the numbers every minute and trust me the guilt of being so conscious of the minutes going by is enough to get you back on track!
5. Memo
I'm not sure if Memo is just available on the Mac store or can be accessed on other devices too, but I use it a lot. These are little electronic sticky notes you can attach to your desktop – you can put reminders, do-lists or even just little notes to yourself on it.
I'm one of those people who like to have a very empty desktop – I only keep a couple of folders on it and other than those my desktop is kept empty. Sow hen I add a sticky note to it, I feel like working through the things quickly so I can remove the notes. And…It's always there looking at you every single time you see your desktop! You can even password protect some of your private memos!
6. Effortless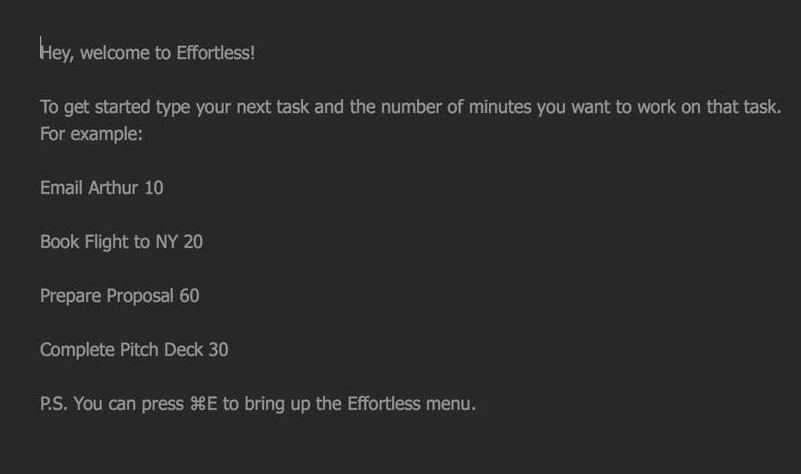 Effortless is another Mac app – it's got a very simple minimalistic interface and is essentially a timed to-do list. You just type your to-do list in and a number to represent the number of minutes you expect each item to take. The task will then flash at the top of the screen in the menu bar until you've completed. You can add minutes to it, pause a task, cross off the task once you've completed it and even get stats on how much time you spent at the end of each day.
One of the features I really like is a little reminder you can schedule to pop up every time you go off task so it'll bring you back on track again.
---
Let me know if you've tried any of these apps and what you thought of them.
Do you have any other favourites?
Don't forget to join my Flipd group and let me know when you do, because I have got some prizes planned for those of you on there!